Biography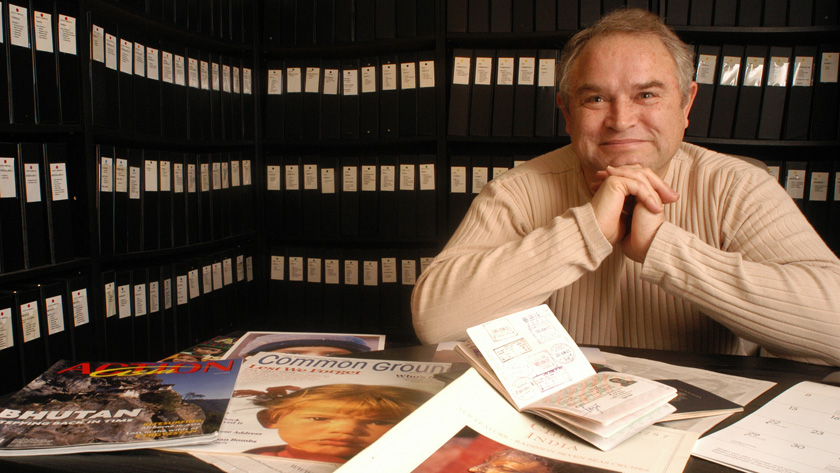 Peter Langer is one of Canada's leading photographers. His pictures have appeared in publications worldwide and have been exhibited on several continents. Peter has travelled to over 160 countries and his photographic material is widely sought after by a large number of publishers, governments, corporate clients and people like you.
He is the Managing Director of Associated Media Group, a company specialized in the creation of photography and multi-image shows. Peter Langer and his team provide professional photographic services world-wide.

Peter is also a professional geographer and acclaimed lecturer. He speaks, reads and writes in German, Spanish and English fluently.

Peter Langer's photographs and articles has appeared in over 100 magazines and many books worldwide. He is proud to include among his clients some of the world's leading magazines and publishers; advertising agencies, public broadcasters, government agencies, tourism offices, airlines, cruise lines, global tour operators and private individuals.
Client Roster

| | | |
| --- | --- | --- |
| Magazines & Newspapers | | |
| • Action Asia, Hong Kong  | • Merian Magazine, Germany | • Veja Magazine, Brazil |
| • AAA Arizona Highroads  | • National Geographic, Israel  | • Institutional Investor Magazine, USA |
| • Albuquerque Journal, USA  | • National Geographic Traveller  | • Songlines Magazine, UK |
| • Biblical Archaeology, USA  | • Nature Magazine, UK | • Vanity Fair, USA |
| • British Airways In-flight Magazine, UK  | • Oprah Magazine, USA | • Westworld Magazine, BC, Canada |
| • Business Week Europe & Asia  | • Pacific Asia Travel News | • Westworld Magazine, Alberta, Canada |
| • Conde Nast Traveller, UK  | • Travel Age West, USA | • World Heritage Magazine |
| | | |
| Governments |   |   |
| • Cambodia Ministry of Tourism  | • Comisión Nacional del Medio Ambiente, Chile  | • Royal Mail, UK |
| • Canada Mortgage & Housing Corporation  | • Hong Kong Tourist Association  | • Travel Alberta |
| • Canada Place Corporation  | • Mexican Government Tourism Office  | • Tourism British Columbia |
| • Consulate of Pakistan, Vancouver, BC  | • New Zealand Tourism Board | • Tourism Malaysia |
| • Government of Chile - Development Corporation  | • Philippines Department of Tourism | • Tourist Office of Spain |
| • Government of India Tourist Office  | • Royal Canadian Mounted Police | • Vice-Ministerio de Turismo, Bolivia |
| | | |
| Broadcasters & TV Stations |   |   |
| • Australian Broadcasting Corporation  | • City TV, Vancouver, BC, Canada  | • PBS - Public Broadcasting Service - Oregon |
| • CBC Television, Vancouver, BC, Canada  | • Productions Vic Pelletier | • Radio Canada |
| • Channel M, Vancouver, BC, Canada  | • Productions Canada a la carte | • Shaw Television, Vancouver BC, Canada |
| | | |
| Corporate Clients |   |   |
| • American Concrete Institute  | • Exxon Mobile  | • Raytheon |
| • Audrey Matlock Architects , USA  | • Grand Timber Lodge Breckenridge, Colorado, USA  | • Superpages - Telus, Canada |
| • AT&T Wireless | • Halcrow Group Ltd  | • TABY Schiffahrts- und Speditions GmbH, Germany |
| • Bank of Montreal  | • KPMG | • Turkish Express Line, Inc. |
| • Beverly Hills Estates, Canada  | • Minera El Abra, Chile | • Vinos de Chile |
| • Canada Post  | • Primus Canada | • Navras Records, UK |
| • Deloitte Touche Tohmatsu  | • Rolls Royce |   |
| | | |
| Airlines |   |   |
| • Aces - Colombian Airlines  | • Alaska Airlines  | • Lufthansa - German Airlines |
| • Aeroflot - Russian International Air Lines  | • Bangkok Airways  | • Malev - Hungarian Airlines |
| • Aerolineas Argentinas  | • British Airways  | • Mexicana de Aviación |
| • Aeromexico  | • Cathay Pacific  | • Pakistan Airlines |
| • AeroSur  | • Dragonair  | • Philippine Airlines |
| • Air BC  | • Garuda Indonesian Airlines | • Qantas |
| • Air India  | • Japan Airlines | • Royal Air Maroc |
| • Air Botswana  | • Jet Airways | • Syrian Air |
| • Air Madagascar  | • Kenya Airways | • Varig Brazilian Airlines |
| • Air Mauritius | • Koran Air | • Vietnam Airlines |
| • Air New Zealand  | • Lan Chile | • Yemenia |
| | | |
| Cruise Lines |   |   |
| • Crystal Cruises  | • Princess Cruises     | • Royal Olympia Cruises |
| • Orient Lines  | • Royal Cruise Line | • The Adventure Fleet & Clipper Cruise Lines |
| | | |
| Tour Operators & Travel Agencies |   |   |
| • Audley Travel  | • Grand Circle Travel | • Starquest Expeditions |
| • Benno's Adventure Tours  | • Holiday House  | • Sunquest Select |
| • Bestway Tours & Safaris  | • Mexi-Can Holidays  | • Stylish Traveller |
| • Boudlesss Journeys | • Peregrine Adventures | • Travcoa |
| • BritRail Travel International  | • Sacred Earth Journeys | • Trek Holidays |
| • Explore Worldwide  | • Stanford Travel/Study | • World Heritage Tours |
| • Geographic Expeditions | • Special Travel International | |
| | | |
| Museums |   |   |
| • Barbados Museum and Historical Society  | • International Slavery Museum - Liverpool, UK | • The British Museum, London  |
| | | |
| Non-governmental Organizations |   |   |
| • Africa Travel Association  | • Child Care International | • Newington Cropsey Foundation |
| • Alliance of Canadian Travel Associations  | • Collective Invention | • Orff Schulwerk |
| • American Forum for Global Education  | • Desert Ashram, USA | • Pacific Asia Travel Association |
| • Anglican Relief and Development Fund  | • Doctors without Borders | • Pacific Rim Institute of Tourism |
| • Barbados Museum & Historical Society  | • EcoLogic Development Fund | • Peace River Alaska Highway Tourism Association |
| • British Columbia Association of Social Workers  | • Engender Health | • Sigma Alpha Epsilon Foundation |
| • Canadian Diabetes Association's Best Ball  | • Geneva Global | • TOPAC - Tour Operators Promoting Africa in Canada |
| • Canadian Institute of Travel Counsellors  | • His Highness Prince Aga Khan S.I. Ismaili Council - BC | • UNESCO |
| • Canadian Medical Assistance Teams | • JSI Research & Training | • Woodrow Wilson International Center for Scholars |
| | | |
| Advertising Agencies & Designers |   |   |
| • Animation Advertising, Egypt  | • Holy Cow Communications, Canada  | • Relevant Publications, Canada |
| • Aquamedia, Jordan  | • Horizon.FCB, Jordan  | • Spencer Graphics & Printing |
| • Crescent Group Foundation House  | • Izzard Fine Arts Inc  | • Saatchi & Saatchi |
| • FCB Direct, Canada  | • J. Walter Thompson, Chile | • Taurins Design Associates, USA |
| • Fjord Interactive  | • Network Fish, UK | • VC Graphics, USA |
| • Frank Wilson & Associates | • PMG Ad Group | • William Huff Advertising, Canada |
| • Canadian Relief Foundation  | • Kidney Foundation of Canada, BC Branch | • World Bank |